Let me introduce you to my 'Father Heart' guitar.
It's been a faithful companion for almost 4 years now. Pretty much everyday I pick up this beautiful instrument and strum at least a few chords. It goes everywhere with me and has even travelled to 2 different continents. It still sounds beautiful even when my fingers hurt from playing a 4 hour worship set.
This guitar was with me in Franklin,Tennesee, when I spent the afternoon writing the song 'Father Heart' with the wonderfully talented Shelly Moore, but its name goes back to when I first became its proud owner.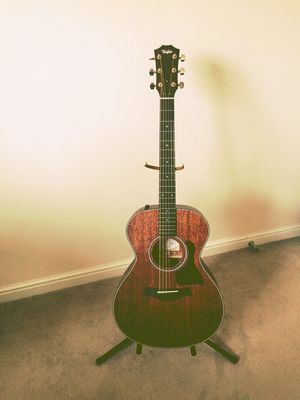 In 2015 I had recorded, and was about to release my very first full album 'Made To Love'. During the recording process it had become apparent that my current guitar (a 20 year old Guild songbird that belonged to my husband) just wasn't up to the job. I needed a new instrument that would always sound great for live gigs. I had always dreamt of owning a Taylor guitar and so I had done my research and went to the shop with a specific model in mind.
Now I'm no acoustic guitar expert...(I taught myself to play guitar as a teenager in my bedroom singing 90's pop songs) and I would never describe myself as a guitarist. Added to that, I need a guitar with a small enough neck for me to wrap my little chubby fingers around and a small enough body for me to get my arm over. A child size or travel guitar was what I really had in mind :-)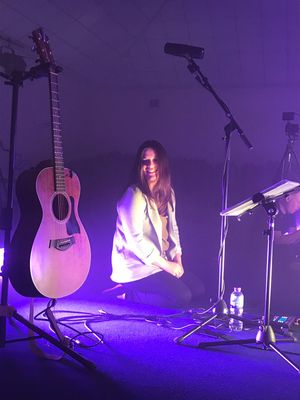 As I was trying out the small travel guitars, my husband stopped me and lifted this one off the shelf, telling me I needed a 'real' guitar now. I tried it, it sounded beautiful and felt comfortable. But I couldn't bring myself to buy it. Something stopped me, a voice of doubt that said "You're not good enough for a guitar like that..." So we left the shop with nothing.
The next day I was driving to work and praying. I was praying about the guitar and asking God what I should do. I became very aware of His presence in that moment and I burst into tears as He reminded me of the provision he had put in place that enabled me to buy that guitar. He reminded me of His purpose for me, that included writing and singing songs that glorify Him. He reminded me that I was His child,  and he was a generous Father that gives only "good and perfect gifts"(James 1:17).
In the parable of the prodigal son in Luke Chapter 15, the son comes home to the father and says "I am no longer worthy..." but the father's response in that moment is not just "Welcome Home". The father takes this opportunity to lavish his love on his wayward son. The 'best' robe, a ring, a feast and a celebration.
Whenever I play this beautiful instrument I'm reminded of His love for me- lavish, generous, abundant and unconditional.
"See what great LOVE the FATHER has lavished on us, that we should be called children of God!" (1John 3vs1)